Esper walks you through a step-by-step process to create your rulemaking.
Users are able to create new rulemaking according to their roles.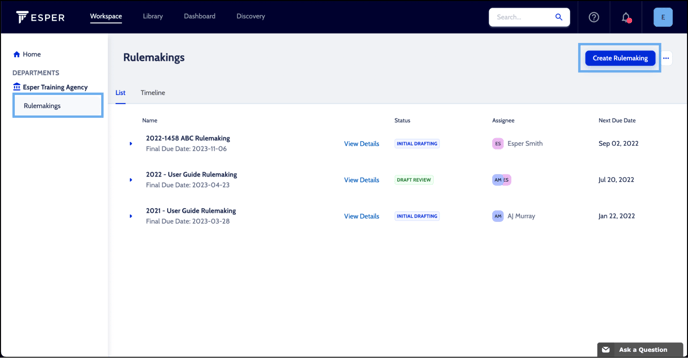 To create a rulemaking:
From the

Workspace

, click the

Rulemakings

button under your agency name in the left-hand sidebar

The Rulemakings List

will appear, click the

Create Rulemaking

button on the top right.



Name your Rulemaking
Enter the rule name in the Name field
If no default department is entered, select your department from the Department dropdown menu
Select a workflow from the Rulemaking Workflow dropdown menu
Click Save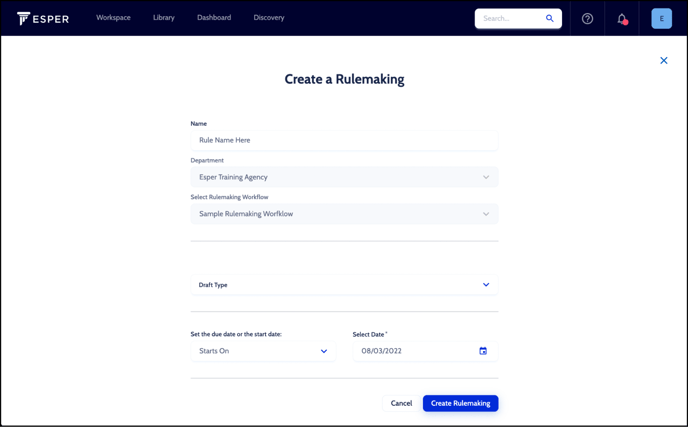 Select Draft Type
Choose to Amend, Create, or Repeal Rule from the Draft Type dropdown.
Select a draft type from the Draft Type dropdown menu
Amend Rule or Repeal Rule

Under Add rule(s), enter a citation number or rule name in the search field
Click appropriate rule
Continue searching and adding rules until all necessary rules have been added
Use the + to add more than one rule at a time
Click the Save button

If necessary, click the + Add button to add another Draft Type
Create Rule

Enter the Rule Number and Rule Name
Note: If you do not know the new rule's number and name upon creation, input New Rule for Rule Number and 1 for Rule Name
Select Chapter by typing the Chapter's name or scrolling through the list of options. Chapters are listed numerically
Note: You must select a chapter. If you do not know the chapter for the new rule, choose one as a placeholder
To make a change to an entire Chapter, select to Amend, Create, or Repeal Chapter from the Draft Type dropdown
Note: You must also select to Amend, Create, or Repeal all the rules in the Chapter.
Set Due or Start Date
Select Starts On or Due On from the dropdown menu. Task due dates will be automatically calculated working forwards from a Starts On date or backwards from a Due On date
Enter the appropriate date based on your selection above in the Date field
Click the Create Rulemaking button