The Dashboard displays an overview of regulatory analytics across all jurisdictions in the United States, including the Federal code.
Filter by Metric
You can filter the data shown on the map by choosing from a number of metrics in the dropdown menu in the upper right corner. Hover over each state to see the number of rules within your chosen metric for that jurisdiction.

Administrative Code Overview
The map will automatically defer to your jurisdiction, but you can click on any state to view an overview of their administrative code. You can also use the Filter below the Map to choose a specific State and Title.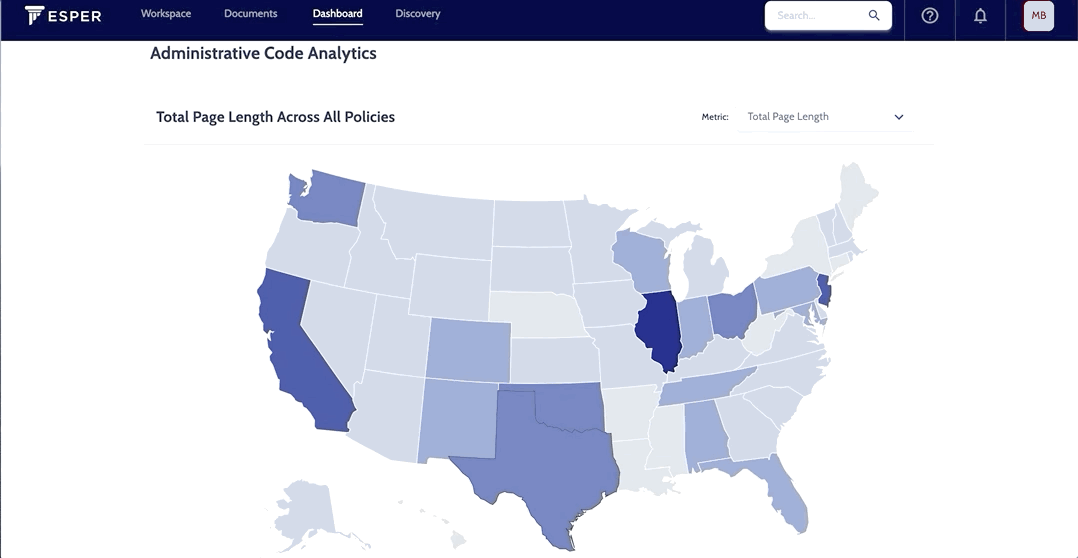 Distribution of Statuses
Esper automatically flags rules based on their status, such as Review Due, Has Repealed References, and Under Review. A distribution of these statuses is shown and you can view a complete list of rules belonging to each status by clicking on See all.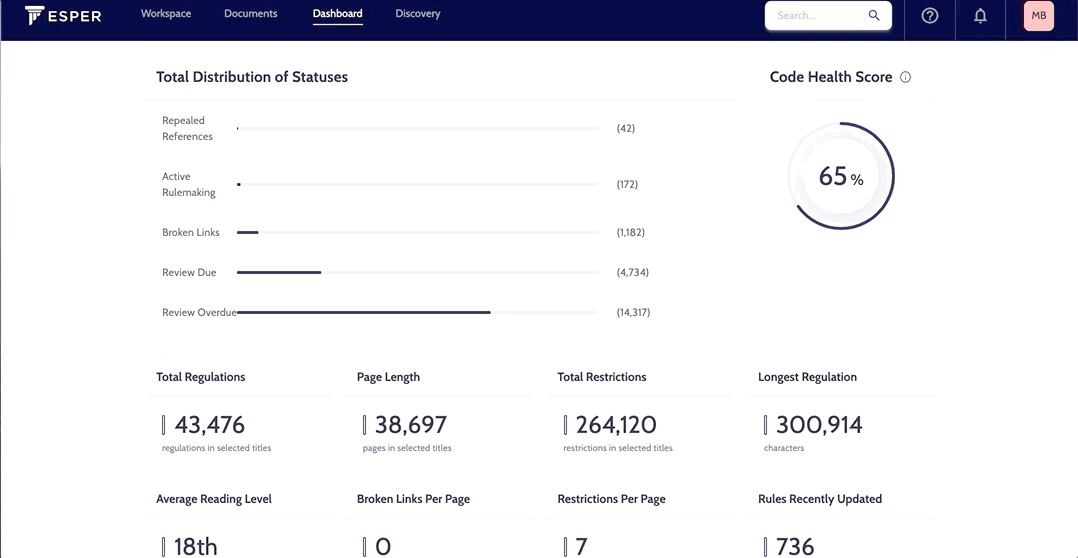 Administrative Code Information
Esper provides data on the administrative code including total regulations, total page length, total number of restrictions, and the longest regulation by character count.
The metrics are defined as follows:
Total Number of Regulations
Esper sums the total number of regulations in your jurisdiction and by title or agency. This number will reflect the State and Title filters chosen in the Dashboard.
Page Length
Esper calculates an estimated page count of your Administrative Code based on how much text fits on a page. Note, a rule does not get its own page so you could have less pages than rules.
Restrictions
Esper highlights occurrences of restrictive language in the regulatory text. Restrictions often denote an action that is required of stakeholders and are used to approximate regulatory burden. In Esper, we count the following 5 words or phrases as restrictive language:
"shall"
"must"
"may not"
"required"
"prohibited"
Longest Regulation
The regulation with the largest character count, which is the the sum of all spaces, letters of the alphabet, numbers, and punctuation in a regulation.
Average Reading Level
The level of education a constituent needs in order to comprehend the regulation based on Esper's analysis of the number of words, syllables, and sentences in the text.
Broken Links Per Page
A broken link denotes a reference to another regulation or statute that is not detectable. This means the reference is either incorrectly cited or has been repealed. This metric is defined as the average number of broken links per regulation.
Restrictions Per Page
The average number of restrictions per regulation.
Rules Recently Updated
Esper automatically detects regulations that have been updated in the past month and can visualize net increase or decrease of regulations over time.

Repealed References
At the bottom of the Dashboard is a list showing rules with repealed references. These are listed with the greatest number of repealed references at the top. View the entire list by clicking View All at the bottom right.