We've made it easier and more flexible to Add Tasks to your workflow, and to remind your colleagues when tasks are overdue.
Automatic and Manual Task Reminders
One of our most popular customer feature requests is now live in Esper! We've introduced Automatic Task Reminders on In Progress tasks. 48 hours before a task is due, Esper will email the task's assignee, and if it isn't completed, 48 hours after it is due.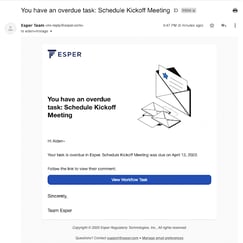 Is there a task due date approaching, and you'd like to nudge your colleague to complete the task? You can send the assignee a reminder from Esper on an In Progress task, and it gets added to the Activity Log.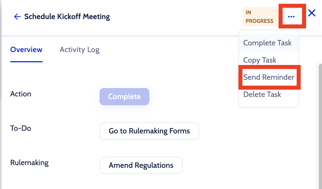 See more details here: Manual Reminders and Automatic Reminders
Adding a New Task is More Flexible
Esper has made adding custom tasks to your workflow easier and more intuitive. In addition to copying an existing task, you can add a parallel task, or add a task after an existing task and set its own due date. See more here: Add a Task