Shift due dates for a whole rulemaking, omit a stage, and more
The Esper team is pleased to announce improvements to your Esper workflows, including our most popular enhancement request: the option to update all dates on a rulemaking project.
Updated Workspace
(applies to all users)
Your Workspace homepage makes it easier to see which tasks and projects need your attention, and what you can expect to work on soon.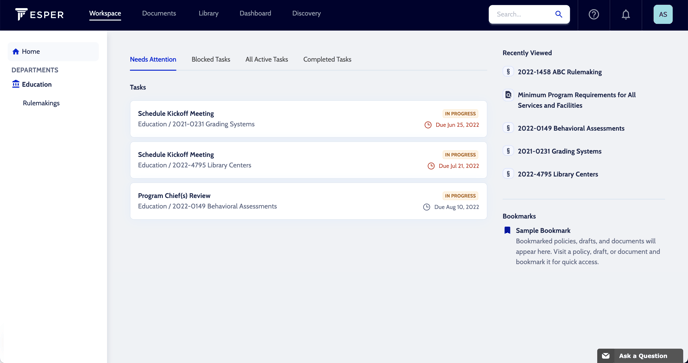 See more details: Homepage Overview
Create a New Rulemaking has a new home
(applies to users with Create Rulemakings privilege)
We moved the New Rulemaking button from the left panel to the Department Rulemakings List View.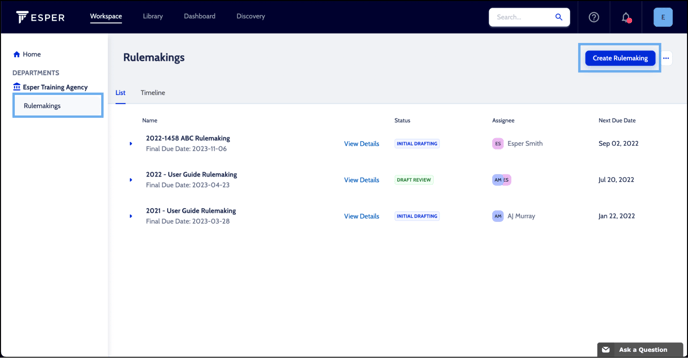 See more details: Create a Rulemaking
Changing project due dates is a lot easier
(applies to users with Workflow Deadline privilege)
This is one of our most popular enhancement requests, and it's finally here! We've made it a lot easier to change your task due dates on a single-task basis, and also give you the option to shift task dates for all subsequent tasks, or the whole project. You'll be able to override the suggested dates if for example you know you need to keep your Public Hearing on a certain date.
See more details: Update Task Due Dates
More flexibility: Omit a workflow stage
(applies to users with Workflow Admin privilege)
Sometimes a pre-configured workflow stage doesn't apply to every project situation. We've added the ability to omit an entire Stage, instead of completing each task individually.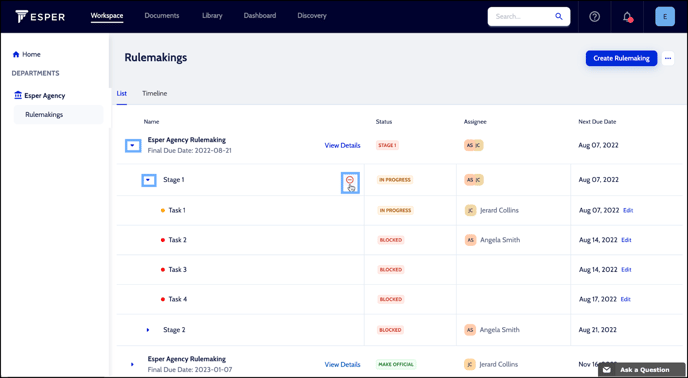 See more details: Omitting a Stage
We hope you like these improvements. Please send any questions or feedback to
support@esper.com
.