Esper's in-app and email notifications give control over the notifications you receive and when you receive them. Utilize in-app notifications in addition to or in lieu of emails from Esper.
View all notifications
Notifications are denoted by a red dot on the bell at the top right. To view notifications:
Click the Bell icon at the top right of the screen
Your most recent notifications are displayed, to view all notifications

Click the See All hyperlink at the bottom of the list

Notification Settings
Esper has many options for notifications. Not only does Esper allow you to customize how and when you are notified, it allows you to customize your settings based on type of activity as well. To adjust your notifications settings:
Click your Initials in the upper right corner
Click Account Settings
Click Notification Settings in the left-hand sidebar

For each activity listed, select your desired Notification Method

For email notifications, select your Email Frequency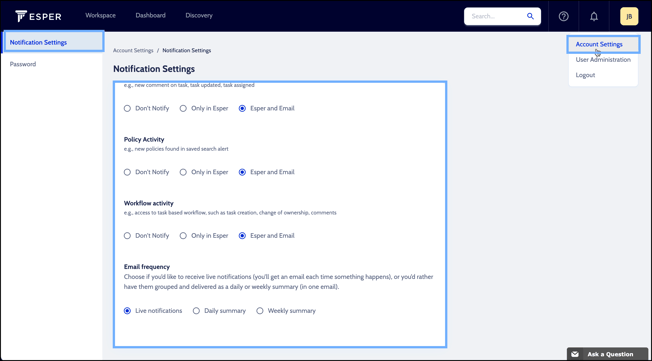 Note: Esper recommends receiving notifications in the application as well as via email ('Esper and Email') with email frequency set to 'Live notifications' to ensure you keep up to date with all activities related to your rulemakings.