This is an older editing experience supported in only a select number of agencies.
Esper's version comparison tool helps compare versions of a rulemaking with quantitative analytics including character count and restrictiveness.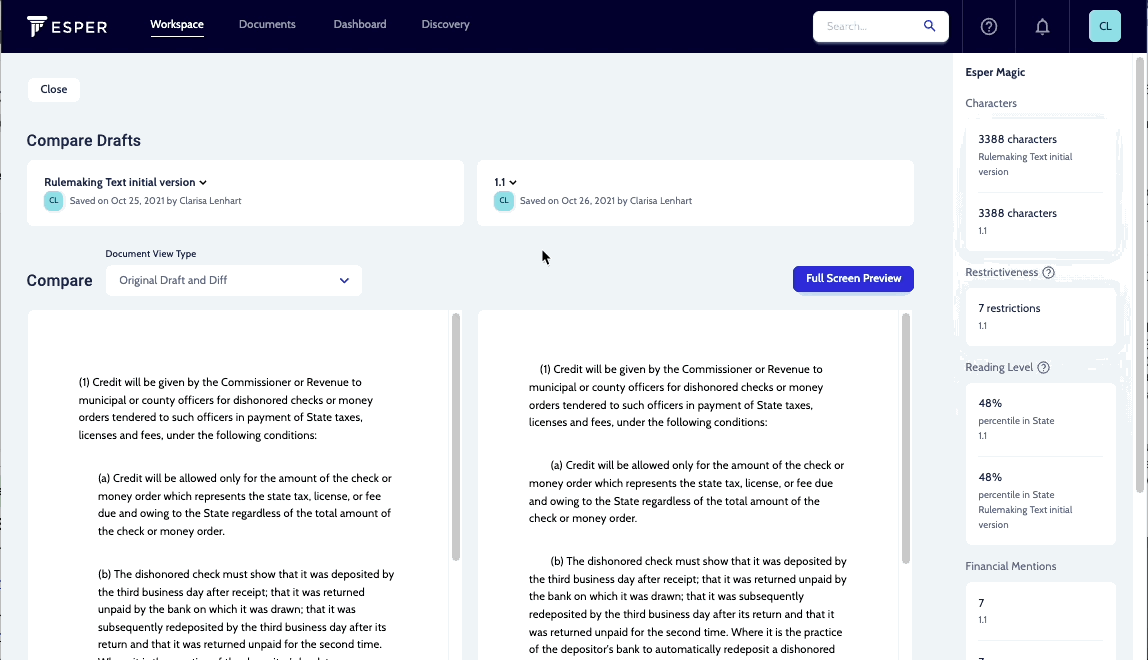 Select Drafts for Comparison
To use the version comparison tool, navigate to the Policy Builder and select Regulation Text on the left sidebar. A rulemaking must have two or more versions in order to compare documents. By default, the version comparison tool selects the earliest saved version as the "base" version for comparison and the "live" text in the Esper text editor as the later version.
To change the versions being compared, click the dropdown menu in the compare drafts section to select among available drafts. Once a version is chosen, the left dropdown under compare drafts will present all versions earlier than the version selected in the right dropdown. Reciprocally, the right dropdown will present all versions later than the version selected in the left dropdown.
Document View Type
When comparing two versions of a document, Esper will generate a third version called the Diff — depending on jurisdiction this is also referred to as the 'redline' or the 'dirty' version. By default, the two versions of the document presented are the Final Draft (most recent), and the Diff. Clicking the Compare dropdown allows the user to choose among the following view options:
Original Draft and Final Draft
Original Draft and Diff
Final Draft and Diff
To view the selected documents in full-screen, simply click Full Screen Preview
Esper Magic
When comparing two versions, Esper automatically generates a comparative document analysis with the following information:
The character count for both versions being compared

The net change in character count between versions

The raw count for restrictive words in the most recent selected version

The net change in restrictive words between versions

The percentile score for reading level for each version

Reading level percentile is calculated against the top-level parent corpus of policies to which the rule belongs (i.e the Texas Administrative Code for a rule or regulation in the state of Texas).

The number of financial mentions included in each version

Financial Mentions include: "$", Fee, Fees, Fine, Fines, Fined, Tax, Taxes, Taxed, Dollar, Dollars, Levy